General Information
Early Registration & Discounts
It pays off to register early!
Register at least 3 weeks before the start of the course and benefit from an early booking discount!
Your loyalty is rewarded when you book 2 courses or more. Have a look at our discounts here.
When is the class opening confirmed?
We generally require a minimum of 6 students to run a class. A course might be cancelled if the minimum number of students is not met.
Should your course be affected, we will contact you directly by email to discuss your options, which may include:
Moving onto an equivalent course at a different day or time.
Deferring a term and starting your course at a date of your choice, for which you will be given priority.
Converting your course fee to credit, which can be used as full or part payment for any other course. A full refund of your course fee will be done by bank transfer within two weeks.
Your Course Material
For most General French courses, you will have to purchase one textbook and one workbook. Your teacher will confirm which books/resources you need during your first class.
Recommended bookshop*:
La Page

: Harrington Rd, Kensington, London SW7 3ES, 020 7589 5991
* They regularly offer a 10% discount on a selection of books to our students
What happens if you miss a lesson?
Students should consider their personal commitments and circumstances that may prevent attendance before enrolment. Unfortunately, missed lessons cannot be refunded or be taken at another time. Your teacher can send you a summary of the material covered in that class. You can contact your teacher directly on Microsoft Teams.
If you know prior to your course that you will have to miss some lessons, you can also consider adding a Combo 1 or 2 of private tuition to catch up on what you have missed or to customise the course according to your needs.
Transfers & refunds
For a smooth onboarding and to make sure you chose the right course, we strongly recommend booking a free online assessment before starting your course: here
Transferring to another course is possible only once and within the same enrolment period. Any change of course or schedule requested by students is subject to availability and an administrative charge if requested less than 10 days before the start of the course.
Fees cannot be refunded once a course has started.
Except for Young Learners courses, all classes are for students aged 18 and over only.
For more information, please check our transfers & refunds policies: here.
Did you know?
You can boost your learning experience by improving your fluency and accuracy with one of our 5-week short courses!
Whether you'd like to enhance your speaking skills or expand your vocabulary with a Grammar course to sharpen and solidify your writing, you can top up your French with specialised courses.
You can also get an extra practice with our partner Frantastique for online fun self-learning and practice! Try it for free today!
We are an accredited Centre for Official Exams
The Language Centre is officially accredited by France Education International Centres d'examen | France Education international (france-education-international.fr) for the DELF (French Studies Diploma) and DALF (Advanced French Studies Diploma) exams.
If you want your level of French to be recognised worldwide, consider taking the DELF/DALF exams or the TCF.
If you want to optimise your chances of success, we also offer preparation courses for exams.
Onsite
In South Kensington
Find your Classroom
For most onsite courses, you will receive your classroom number by email.
On the day of your first class, our reception team can also guide you to your classroom.
We advise all students to arrive at least 15 minutes ahead of the beginning time of the first lesson.
Should you require specific access to our premises, please contact us before your first class.
| | |
| --- | --- |
| Rooms B1 to B11 | Basement |
| Rooms G1 to G5 | Ground floor |
| Rooms 11 to 18 | 1st floor |
| Rooms 21 to 26 | 2nd floor |
| Rooms 31 to 36 | 3rd floor |
There are toilets on all floors of the Language Centre.
Wifi Access
Free wifi access for is offered in the building for all our students.
WiFi network: InstitutFrancais.
Password: 1nst1tutF2014
Break time
Pop in into our common room, it's perfect for waiting, relax or socialise before your class begins or during your break. Why not enjoy your meal on our lovely terrace? – a great place to soak up the atmosphere and the sun, finish your homework, or practise French with the community.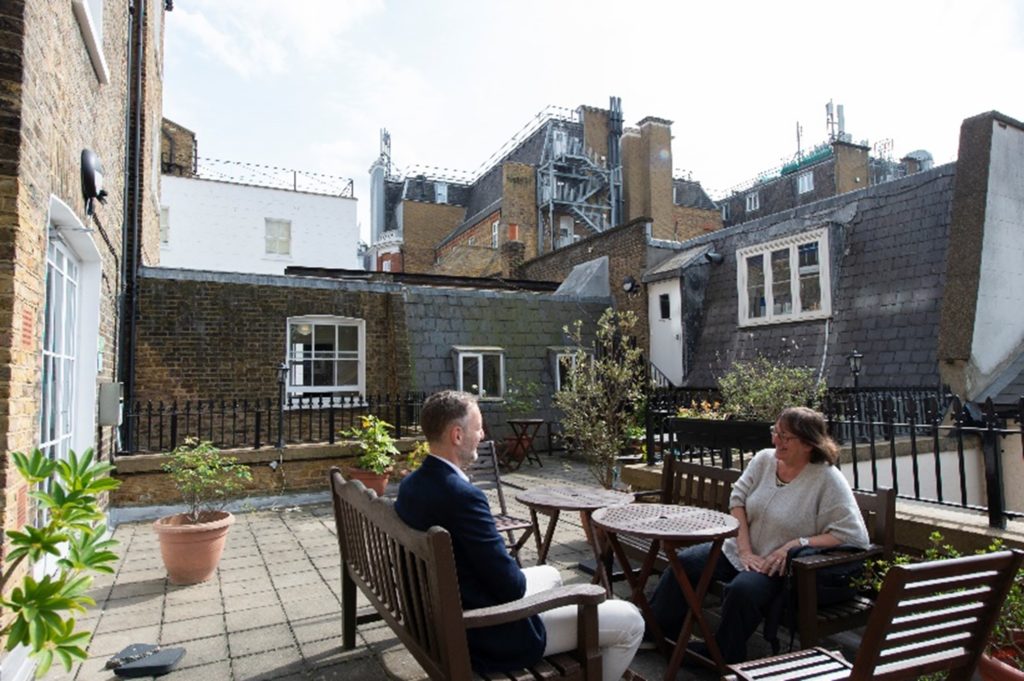 For your security: fire exit
Our assembly point is: Queensberry way (pedestrian roundabout behind 14 Cromwell place building)
In Kentish Town
Most courses will be held on the second floor.
On the first day of class, our reception team will guide you to your classroom.
Should you require specific access to our premises, please contact us before your first class.
Wifi Access
Free wifi access will be given by your teacher.
For your security: fire exit
Our assembly point is in the school yard, farthest to the main building close to mural.
Toilets are situated on all floors.
2nd floor:
When leaving room 2.10, on the right handside.
Left handside: disabled WC. Adult men and women WC.
Online
Online courses: make sure Microsoft Teams works
We have chosen to use Microsoft Teams, which is a user-friendly interface that is easy and free to use on either Mac, PC, Tablet or Mobile devices.
You would preferably need a computer with a webcam and an Internet connection, or a mobile phone (Android or Apple IOS).
For a smooth connection, please check that your system meets the requirements here.
Your teacher will usually send you an invitation link up to 24h before the lesson begins.
For late registrations (less than 24hrs), please contact us on 0207 871 3535 or customer.relations@institut-francais.org.uk in order to receive an invitation email to join your class.
As a new student of the Language Centre, you are entitled to a free membership to our Cultural Centre for one year including:
Four free cinema tickets at Ciné Lumière
Borrowing rights at La Médiathèque, a library holding one of the largest free-access collection of French material in the UK: 50,000 documents of literature, comics, music, films… in a fabulous Art Deco setting
Free access to Culturethèque, a digital library (books, audiobooks, podcasts)
Free access to Europresse: read online thousands of French and international newspapers and magazines.
How to redeem your complimentary membership
Once you have registered for a course, you will automatically receive an email confirming your enrolment.
You will need to show this confirmation to the reception at the Cultural Centre (17 Queensberry Place, London SW7 2DT) to claim your membership card with privileged access to a full range of cultural events and 2 free cinema tickets (new registrations only). If you wish to add the one-year subscription to the streaming platform Mubi for £25, do mention it at the reception.
Alternatively, if you are not in London, you can send an email to: membership@institut-francais.org.uk to get your virtual membership.
Enjoy your French learning experience with us!
Your learning experience and environment matter to us, and we are here to support you and guide you in every step of your journey.
We are always happy to hear your feedbacks to improve our service.
If you have any suggestion, or concern please contact: customer.relations@institut-francais.org.uk
You can also find more information on our terms and conditions.