OUR COURSES
Our French courses cover culture, business, and professional aspects taught by French native speakers. We offer flexible online or onsite courses for groups or one-to-one.
OUR TEACHERS
Our 100 instructors are highly qualified, native French speakers. They're trained in the latest teaching methods, and they're experts in online teaching.
OUR APPROACH
Our approach is friendly and communicative. All classes are in French, so you'll get plenty of practice.
OUR FACILITIES
At our centres in South Kensington and Kentish Town, you'll have access to the latest technology and teaching aids.
HELPING YOU EVERY STEP OF THE WAY
We'll make sure you're in the right class, and we'll monitor your progress regularly. You can receive a Certificate of Attendance at the end of your course.
Join the 7000 students who choose to learn French with us every year – we'd love to have you!
Your Learning Journey Starts with Us
Beginner (A1)
60 hours
Elementary (A2)
120 hours
Intermediate (B1)
120 hours
Fluent (B2)
120 hours
Expert (C1)
120 hours
Mastery (C2)
A1.1 (30 h)
A1.2 (30 h)
A2.1 (30 h)
A2.2 (30 h)
A2.3 (30h)
A2.4 (30h)
B1.1 (30h)
B1.2 (30h)
B1.3 (30h)
B1.4 (30h)
B2.1 (30 h)
B2.2 (30 h)
B2.3 (30h)
B2.4 (30h)
C1.1 (30 h)
C1.2 (30 h)
C1.3 (30h)
C1.4 (30h)
 
Assess your Level
Book a free level assessment to find out your level of French proficiency in minutes.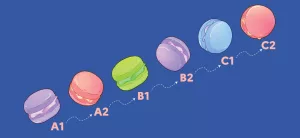 Customise your Learning
Why not give a personal touch to your learning? You can add private combo classes on top of your French classes to boost your confidence and meet your personal needs.
An excellent opportunity to combine group-based General French with the personal attention that comes from individual tuition at our premises. This offer includes carefully tailored training programme with 90-minute Private Tuition sessions (Monday to Friday only). Please note that only one combo per group course can be purchased.
Combo 1
1* 90min of Private Tuition | £90
Combo 2
2* 90min of Private Tuition | £180
Combo 3
4* 90min of Private Tuition | £348
Get Ready for your French Course
Find out which textbook and exercise book you will use in your General French classes.
Fees are exclusive of books. Please wait the confirmation from your teacher during the first lesson before purchasing your textbooks.
A1.1, A1.2, A2.1
A2.2, A2.3, A2.4

Défi 1 – Livre de l'élève
(ISBN: 9788416273065)
Défi 1 – Cahier d'exercices
(ISBN: 9788417249656)

Défi 2 – Livre de l'élève
(ISBN: 9788416657469)
Défi 2 – Cahier d'exercices
(ISBN: 9788417249663)

B1.1, B1.2, B1.3, B1.4
B2.1, B2.2, B2.3, B2.4

Défi 3 – Livre de l'élève
(ISBN 9788416943593)
Défi 3 – Le Cahier d'exercices
(ISBN 9788417249670)

Please check with your tutor on the day of the class

Défi 4 – Livre de l'élève
(ISBN 9788416943609)
Défi 4 – Le Cahier d'exercices
(ISBN 9788417249687)

C1.1, C1.2, C1.3, C1.4

C2

No textbook required

No textbook required
All these books are available for purchase round the corner from the Institut français at Librairie La Page.
Get your French Certified
Your French level will be assessed according to the Council of Europe's Common European Framework for language learning. Each unit takes 30 hours to complete.
You can get official accreditation for your French at the end of each stage of your learning.
How to Register in a Few Minutes:
Sign in to your account (or sign up)
If you are a total beginner or a returning student proceed to registration
If you are unsure of your level, take a level assessment (or haven't studied with us for more than 12 months) (It is also a great way to get a personalised advice from one of our teachers)
Proceed to registration
Find out more in our Welcome Pack
It Pays off to Enrol Early
If your payment is received 21 days or more before the start date, you will benefit from a 5% discount on all group courses (except on our Live French e-Learning, Intensive Premium and French at Lunch and Booster Week courses).
Fees & Discounts Available
You can pay course fees:
By Card (all cards except American express) online, in person or over the phone.
Tuition fees based on pro rata basis will not be permitted.
Full payment, by card or bank transfer is required in order to confirm a place on your course.
Unfortunately, we cannot take deposits or accept payments by instalments.
The fees are not subject to VAT.
Additional fees:
Please note that textbooks are not included in the course fees.
For most General French courses you will have to get one textbook and one workbook (which together cost around £30).
Company Payments
Students sponsored by their employer must supply an official order form stating that the company will be responsible for the payment of fees. An invoice will then be issued. 
Free Membership to the Institut français
Your tuition fees include membership to the Institut for 1 year, with privileged access to a full range of cultural events and facilities. For details, see the latest issue of Le Programme, published by the Institut français, or visit the membership page. 
Cancellations and Refunds
Please refer to our Terms & Conditions.
In South Kensington
Institut français, Language Centre, 13 Cromwell Place, London SW7 2JN
In Kentish Town
 Collège Français Bilingue, 87 Holmes Road, NW5 3AX
ONLINE
We also provide courses online via Microsoft Teams. Find out how to connect to Teams.
Get expert advice from our team. Contact us on 020 7871 3535 or at customer.relations@institut-francais.org.uk to make an appointment.